Located between Shizuoka and Yamanashi, southwest of Tokyo, Mount Fuji – Fuji-san – is an emblematic volcano of the Japanese archipelago, on the island of Honshu.
The highest point in Japan, it rises to an altitude of 3,776 metres and is a major activity for tourists and Japanese alike. High place of Shinto spirituality and hiking and inscribed on the UNESCO World Heritage List since June 2013, visiting Mount Fuji offers unique landscapes, between lakes – including the famous Kawaguchi and Ashi lakes -, thermal springs and mountains. The ascent of Mount Fuji is indeed very popular among Japanese people in summer, as it allows them to enjoy the sunset or sunrise from the summit.
Would you like to visit Mount Fuji from Tokyo? We warn you: our sources say that you need good physical condition and determination! We reassure you in this article however: visiting Mount Fuji and hiking on its slopes remains feasible. Here is our mini-guide to visit Mount Fuji from Tokyo!
Presentation and history of Mount Fuji
Imagine climbing a chimney almost 4 kilometers high… Visible from almost everywhere in Japan on photos, postcards, travel blogs and from the surrounding cities – Tokyo, Yokohama, Fuji, Shizuoka and Yamanashi -, Mount Fuji is almost asleep, but is considered a volcano that is still active.
It last erupted in 1707. It is said to have erupted more than 600,000 years ago, and about ten eruptions have occurred in the course of its 1,000-year history, from 781 to 1707, an average of one per century. Its eruptions can be particularly violent, as in the year 864, when lava even split Lake Senoumi, creating the two lakes Saiko and Shoji known today.
In the Shinto religions and in Buddhism, the volcano, symbol of Fire, Heaven and Earth, is seen as a deity in its own right by the Japanese. It is said to be the bearer of a soul which, according to dogma, guarantees peace and prosperity. The volcano is also deeply rooted in popular culture: it is the privileged place of inspiration for many Japanese poets and painters. Here is a record a little less laudatory: the Aokigahara forest, at the foot of the sacred volcano, is the place where suicides are the most numerous to deplore in Japan.
What to see and do at Mount Fuji?
Visiting Mount Fuji from Tokyo is not just a matter of climbing a pebble and coming down. The region is full of lakes, waterfalls, lava forests, caves and cities where another time seems to reign. Due to the harsh climate on its slopes – the average annual temperature is -6.5°C and even in August and ranges from -18°C to +8°C – it is difficult and not recommended to climb Mount Fuji outside the months of July and August.
Wind, cold and the amount of snow and ice may block your access to the summit outside the summer. The ascent is marked by 10 stations and various relay points, with the 5th station halfway up at an altitude of 2,300 meters. The ecosystem, biodiversity and slopes of Mount Fuji are threatened by the impact of mass tourism. As a result, the authorities have made Mount Fuji pay to finance its preservation, and quotas of daily hikers have been decided.
Several trails wind their way to the head of this sleepy monster, but they promise to be very popular. The hike is known to be rather arduous; four trails are possible:
Yoshida Trail
Gotemba Trail
Fujinomiya Trail
Subashiri Trail
At the top of Mount Fuji, walk around the crater, with a plunging view of the highest peak. The end of the ascent, sometimes tortuous, rocky, can be steep at times. Be sure to bring your equipment because although it can be 40°C in Tokyo in the summer, the temperature at 3,776 meters above sea level can be negative.
At the foot of the volcano, don't miss to visit the small village of Saiko Iyashi no Sato Nemba, with its thatched houses and old medieval wooden mills.
The lakes Kawaguchi, Saiko, Shoji, Motosu and Yamanaka are a must: they offer superb views of the volcano from the water. Don't know what to do? Take the funicular from Mount Kachikachi to the beautiful observation platform at 1,075 meters above sea level. Also enjoy the waterfalls around Mount Fuji: Shiraito and Otodome Falls, for example, southwest of the volcano, have been designated "natural monuments" by the authorities.
How do I get to Mount Fuji?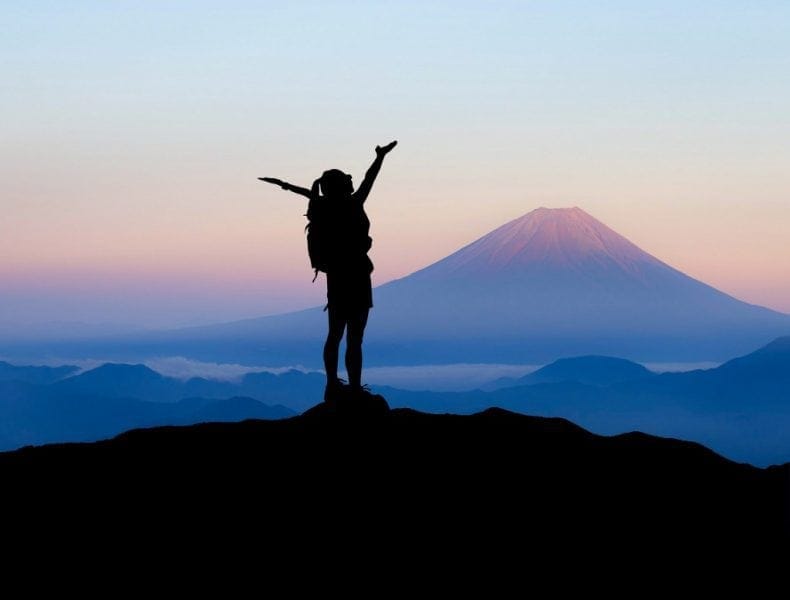 To visit Mount Fuji from Tokyo, there are several options available to you. Access is relatively easy as the volcano is so popular with locals and tourists alike.
From Tokyo, it takes 2h25 by bus to get to the 5th hiking starting station.
Going to Gotemba: by train from Tokyo station, take the JR Tokaido line to Kozu, change for the JR Gotemba line. There is a bus from the station to the hiking trailheads.
You can also reach Kawaguchiko city from Tokyo (Shinjuku) at the "Keio" bus terminal. The journey takes between 2h and 2h30. A last bus at Kawaguchiko station will take you to the 5th station of Mount Fuji.
There is no specific schedule but there are two times to visit Mount Fuji: sunset (daytime climbing, night descent) or sunrise (night climbing, morning descent).
A round trip by bus to visit Mount Fuji from Tokyo, via the Yoshida Trail, costs 5,400 yen.
A guided tour is possible with a guide. A contribution of 1,000 yen ,set up by the municipal authorities to preserve the volcano, is welcome but not mandatory.
A night at the refuge (to watch the sunset or sunrise from the summit) costs between 5,000 and 9,000 yens.
If you want to discover the unique city of Tokyo, all you need to do is to click the link below and travel to Japan through this article https://www.discoverntravel.com/tokyo-travel-guide-and-sightseeing-tours/
You can also have an overview about Asia and its incredible countries through this link https://www.discoverntravel.com/the-11-must-see-countries-in-asia/
Please follow and like us: